The social program is geared to give the delegate a sampling of the sights, tastes and culture of the Whistler region. We include here a brief description of the events noted below:
Sunday reception
Monday Chairman's reception
Wednesday excursion and lunch
Wednesday banquet
Friday bus to Vancouver, lunch and tour of TRIUMF
Sunday reception:
On Sunday Sept. 13 from 18:00 to 20:00 at the Whistler Conference Centre (WCC) there will be a welcome reception just after the registration closes. The event coincides with the student poster session. Light snacks and refreshments will be served.
Chairman's reception:
On Monday Sept. 14 there will be a Chairman's reception from 18:30 to 21:00 at the Squamish Lil'wat Cultural Centre (http://slcc.ca/) in Whistler village a short walk away from the WCC. The reception will include catered appetizers and drinks while offering delegates free access to the complete SLCC exhibition space. It should be an enjoyable and informative evening in a fantastic setting.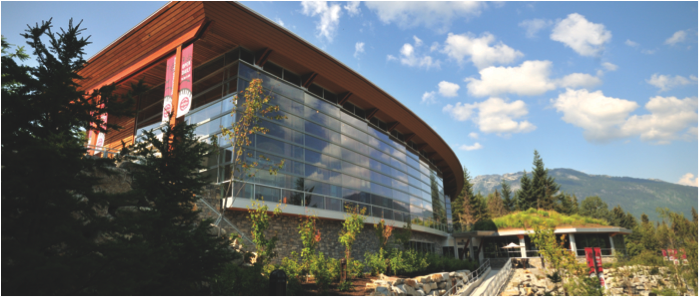 Wednesday excursion: click HERE for full excursion details

On Wednesday Sept. 16 from 13:00 to 17:00 there will be a Gondola excursion to the top of Whistler mountain. A bag lunch will be provided. For hiking in the alpine be aware that it can be several degrees colder than in the valley and that weather can turn quickly - layered clothing and good walking shoes are advised. The last Gondola down is at 5PM.
General plan

From WCC we walk to the base of the Whistler Village Gondola (15 min)
Tickets will be handed out at the base of the gondola
We board the Gondola for a ride to the Whistler Roundhouse Lodge (20 min)

From the Roundhouse there are many ways to enjoy your afternoon

Ride the Peak to Peak gondola from Whistler to Blackcomb (10 min)
Ride the Peak Express chair to the top of Whistler – (with walk 15 min)
Take a hike on either the Whistler side or Blackcomb side (30 min – 2 hours)
Relax on the Roundhouse terrace or Blackcomb picnic area with a beverage

Last ride down is at 5PM

Hiking map Blackcomb: http://www.whistler.com/pdf/maps/blackcomb-hiking-trail-map.pdf

Hiking map Whistler: http://www.whistler.com/pdf/maps/whistler-hiking-trail-map.pdf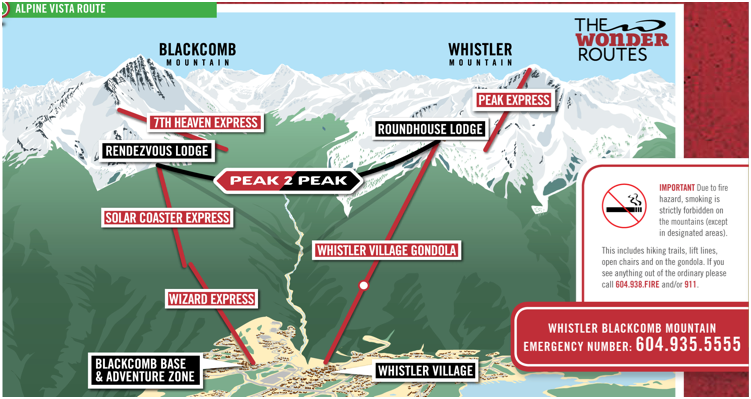 Lu

nch and Amenities

Lunches can be picked up in the Roundhouse Glacier View room
Whistler side: The Roundhouse lodge has a restaurant, café, seating areas, washrooms and viewing patios for those who want to relax.
Blackcomb side: The Peak to Peak Gondola takes you to Blackcomb Mountain where you will find picnic tables, washrooms and a small outdoor café shack (Rendezvous Lodge is closed)
Wednesday Banquet:
On Wednesday Sept. 16 from 18:30 to 22:00 there will be a banquet at the WCC. Attendees will enjoy typical west coast culinary offerings.
Friday Bus to Vancouver:
Immediately after the closing ceremonies buses will be available to return delegates and companions to Vancouver. A bagged lunch will be offered. The bus will stop along the way at one of the scenic rest spots on the beautiful Sea to Sky highway before carrying on to Vancouver. There are two planned stops in Vancouver – one in downtown and the other at the TRIUMF laboratory for those people interested in the TRIUMF tour.